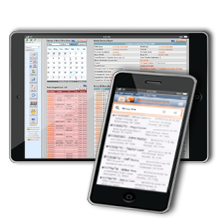 May 28, 2014 at 22:10 PM EDT
Moving Companies Software Management Expansions to Helping Movers to Expand
MoverworX continues to grow and adapt in order that its valued users may do the same
Historically, the 
moving industries
 have always been effected by the need to manage many different types of resources. Anything from sales, office staff, drivers, technicians, materials, vehicles and the hundred other business requirements have always made running a successful
moving business
 a logistical struggle.
As a company in this industry grows and wishes to expand beyond a single location, the level of management must grow as well. In the past, this has represented a large investment in manpower and hours in order to make franchising or multiple branches a reality.
However, in the modern digital age, there are technological solutions that can vastly streamline the processes for a growing moving company. The MoverworX moving software system has taken this into account and the company is pleased to feature several vital components of which an expanding or moving business can take full advantage.
"It is our goal," said Uri Levy of MoverworX, "to provide the most comprehensive moving management software system possible to our customers. We know that it's not enough to build a great system for a single company. We have ensured that the MoverworX system will grow as our clients grow, even into multiple branches, franchises, brokerage features and the ability to manage a single or multiple office company from anywhere and at any time."
MoverworX provides a fully comprehensive suite of applications for the moving industries. The system works across in house or Cloud based servers, is fully integrated for mobile access and management and is also web ready. From logistics to dispatching, staffing to legislation, marketing to quoting, the MoverworX system has everything any sized moving company could need to thrive and grow.
When the time comes to expand a business beyond the limits of one location, the MoverworX system will expand easily along with the company. Whether it's opening multiple branches of operation, creating franchises of a single company or creating a moving brokerage, MoverworX will provide all the functionality across multiple locations and situations with the same ease, reliability and cost-effectiveness as it does for one small office.
"No matter what business we're in today," continued Levy, "technology is key. That's especially true the larger and more complex an industry, and there are fewer larger or more complex industries than moving and freight."
As a further step to streamline the process of managing and growing a moving company, MoverworX also includes a paperless functionality to remove the necessity for bulky printed material. All data and information is handled through server, web, mobile and Cloud-based solutions and the system eliminates the need for most if not all paper. Going green is just as important in today's world as going tech, and MoverworX keeps itself and its users on the forefront of technology, business and social responsibility with a proactive approach to business, development and service.
About MoverworX Software
MoverworX is an advanced high-tech development firm that provides a fully-integrated softwaresolution for moving companies both domestic and international, companies and storage companies. This innovative software system incorporates sales, marketing, operations and management capabilities that gives the company total control over its logistics by providing integrated modules and real-time data. MoverworX software's goal is to be a total solution for the companies it serves. These moving, storage and businesses have a great deal of logistics that must be managed precisely and it is with this in mind that MoverworX has developed its unique software solution.
MoverworX Software
1100 South Powerline Road
Deerfield Beach, FL 33442
Tel: (954)-917-7288
info@moverworx.com
For more information on the company and its solutions, please visit the MoverworX website at:
www.moverworx.net
Company Contact Information
MoverworX Moving Software 
Software specialist
1100 S Powerline Rd Sut 221
33442
954-917-7288