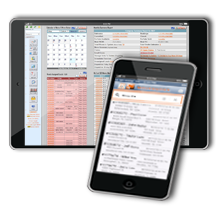 If there was one watchword for today's businesses to focus on for success, it would have to be "mobile."  Mobile is the wave of the future, and its here to stay.
Mobile doesn't just refer to an iPhone or smart tablet.  Mobile in this context means your ability to do business, manage people, resources and information remotely.  The ability for a business to function at any time and allow key personnel access to important data and functions is critical in today's market.
This is why robust web and mobile-based software is the best friend a business can have.  This is certainly true for the moving industry.  These businesses are constantly on the move, whether it's shipping cargo, dispatching people and trucks, quoting projects, etc.  For a manager or owner to have the capability of tapping into and totally managing any aspect of their company from anywhere is a tremendous advantage.
MoverworX knew this, even back when it was in its infancy.  The system was designed for total portability and to allow for complete control.  It can be installed on a server in-house or on The Cloud.  All functions are managed through a web or mobile interface and therefore the management of the moving company is not dependent on hard-installed software running on a specific computer network located on their premises.
IT logistics are as complex as those associated with moving, and they should also be made as easy to move around.  With MoverworX, a business has this capability.  They can easily customize the software and scale it to grow as they grow.  Should the business move locations or expand to multiple locations, there is no need to purchase more servers or software.  The physical logistics of the business don't interfere with the technology used to run it.
MoverworX is a solid example of a true 21st century application.